AMBASSADOR INVITES PRESIDENT OF AZERBAIJAN TO THAILAND, READY TO PROMOTE THAILAND'S TOURISM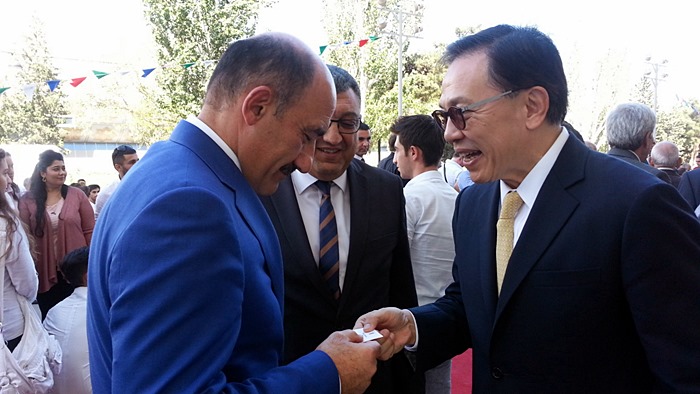 On 14-18 September 2015 H.E. Mr. Tharit Charungvat, Ambassador of Thailand to the Republic of Azerbaijan, with residence in Turkey, met with Azerbaijani Ministry of Foreign Affairs, Ministry of Culture and Tourism, Members of the Parliament, and Azeri media, to advance bilateral relations and promote Thailand's tourism.
At the meeting with the Ministry of Foreign Affairs of Azerbaijan, H.E. the Ambassador probed the possibility to invite H.E. Mr. Ilham Aliyev, President of Azerbaijan, and H.E. Mr. Elmar Mammadyarov, Foreign Minister of Azerbaijan, to visit Thailand in 2016. The Presidential visit to Thailand will mark the first high level exchange of visit ever since the bilateral diplomatic relations was established in 1992.
During the courtesy calls on H.E. Mr.Abulfas Garayev Mursal oglu, Minister of Culture and Tourism, and H.E. Mr.Vagif Aliyev, First Deputy Minister of Culture and Tourism, H.E. Mr. Tharit conveyed his eagerness to have the Azerbaijan Airlines fly a direct flight route between Bangkok and Baku. The direct connection will encourage greater tourism and forge closer people-to-people contact between the two countries. It will also link the Southeast Asian and the Caucasus regions together as Thailand's strategic location allows Bangkok to naturally rise as the region's aviation hub, currently serving 50 million passengers per year, while Baku has potential to be the Caucasus's hub.
H.E. Mr. Garayev and H.E. Mr. Aliyev expressed their strong interest and pledged to push forward the direct flight between Thailand and Azerbaijan seriously. "I myself love Thailand very much. I travel to Thailand every year", said H.E. Mr. Garayev.
H.E. Mr. Tharit invited Dr. Ganira Pashayeva, Members of Parliament of Azerbaijan and former journalist, to Thailand to write a book on Thailand in the Azeri language. Her visit to Thailand is scheduled in January 2016 together with the ATV channel. Thailand will thus be promoted to the Azeri eyes through Dr. Pashayeva's book and a TV programme on the ATV Channel and other TV channel partners.
Dr. Pashayeva is very interested in Thai uniqueness, especially Thai history, arts and culture, monarchy, philosophy, poetry, Thai artists, Buddhism, and women's role in the Thai society. Dr. Pashayeva earlier wrote a book on Pakistan in Azeri language and was widely popular among the Azeris.
H.E. the Ambassador also met Mr. Rauf Asif oglu Aliyev, President of Azerbaijan-Thailand Inter-Parliamentarian Friendship Group at the House of Parliament (Milli Meclis). Mr.Asif stated his readiness to further strengthen ties with Thailand after the two sides held the last meeting in Azerbaijan in 2013 where potential fields of cooperation on public health, education, sports and culture were highlighted.
After that, H.E. the Ambassador gave an interview to the Trend News Agency, the biggest news agency in Azerbaijan. He stressed his strong intention to expand trade and tourism. He also shared that Thailand and Azerbaijan are discussing possible Air Services Agreement which will be would be a fundamental agreement allowing flights to Azerbaijan from Thailand. "Thailand can sell food, fruits and seafood to Azerbaijan and I believe that Thailand needs a lot more Azerbaijani oil and gas in the future", he said.
To build upon H.E. the Ambassador's effort on this trip, the Royal Thai Embassy, together with the Tourism Authority of Thailand, Moscow Office, in charge of Azerbaijan, and the Honorary Thai Consulate in Baku, plan to undertake a series of PR activities in Azerbaijan to promote Thailand's tourism in Azerbaijan from end of 2015 to 2016 for the whole year round.
********************
Royal Thai Embassy
October 2015
News Gallery
1. "I love Thailand. I travel to Thailand every year," said H.E. Mr.Abulfas Garayev Mursal oglu, Minister of Culture and Tourism of Azerbaijan.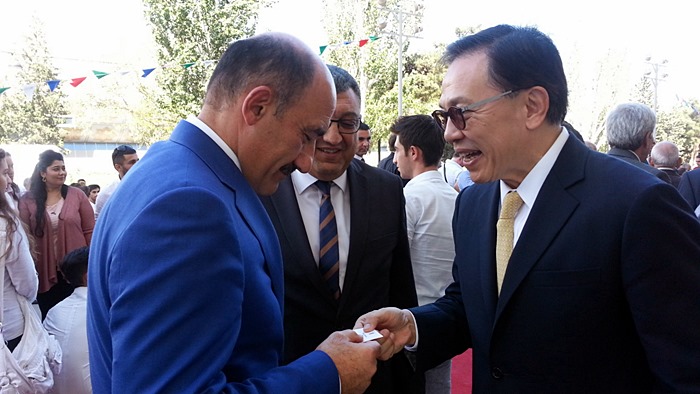 2. H.E. Mr. Abulfas Garayev Mursal oglu, Minister of Culture and Tourism of Azerbaijan, pledged to push forward Bangkok-Baku direct flight.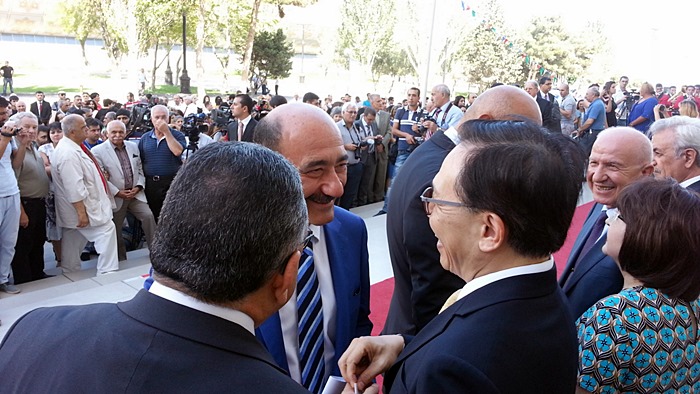 3. H.E. the Ambassador discussed on potentials to open the Azerbaijan Airlines' direct flight between Thailand and Azerbaijan with H.E. Mr.Vagif Aliyev, First Deputy Minister of Culture and Tourism of Azerbaijan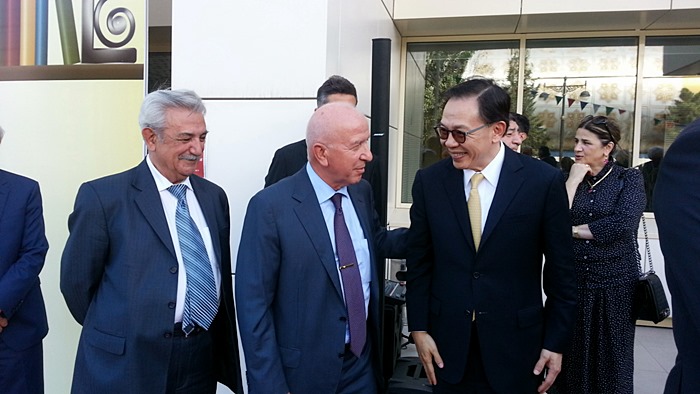 ****************************